Architecture To Go
I have decided to launch Architecture To Go Ltd after ~5 years of being the Chief Architect of Orange Israel - a mobile gsm/3G Hutchison Whampoa LTD company.
"Who's afraid of Enterprise Architecture?" was the recurrent theme of the first couple of years. Eventually, though, Enterprise Architecture proved itself to be well rewarding, business and socially-wise.
This Blog was conceived with the following ambition: making technology and Enterprise Architecture much more accessible and understandable to IT people than it is today.
The Blog will cover the following topics:
EAI, SOA, Information Integration, GRID & Utility Computing, Linux migrations, Service Assurance & SLA, Data Center life-cycle management and more.
Hope you'll find it useful (and enjoyable).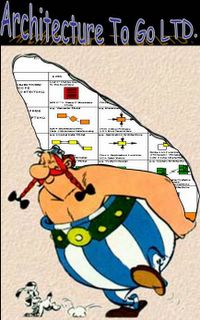 Architecture To Go